News
Circle's USDC Suffers $100M Loss As USDT Dominates Market
143 days ago - Around
3

mins
mins to read
Key Points:
USDC supply is decreasing as redemptions soar to $1.4 billion in a week, leading to concerns about its resilience and future standing.
Over the past year, Tether has consolidated its leading position, with a surge of approximately $17.8 billion in USDT circulation.
Tether's dominance has substantially grown, currently standing at over 7%, while USDC's market dominance has dipped below 5% and presently hovering around 2.3%.
USDC is currently facing a series of declines, which is causing concerns about its ability to maintain its position.
The recent developments surrounding Circle's USDC stablecoin have brought to light a significant decrease of approximately $100 million in its circulating supply over the past week. This downward trajectory has persisted for a year, and it has resulted in a substantial reduction of approximately $28 billion in USDC's market capitalization.
Although the reduction in USDC circulation during the previous week is striking, it is not an isolated event. Over the past month, a significant $4.6 billion has been redeemed, while a comparatively lower $3.6 billion in new stablecoins has been issued. These developments prompt questions about the stablecoin's resilience and raise doubts about its future standing.
One of the primary reasons for this decline is the surge in USD Coin redemptions, which reached a substantial $1.4 billion within a seven-day period, as reported by Circle. This trend has been going on for a while, and it raises concerns about the stablecoin's ability to maintain its peg to the US dollar.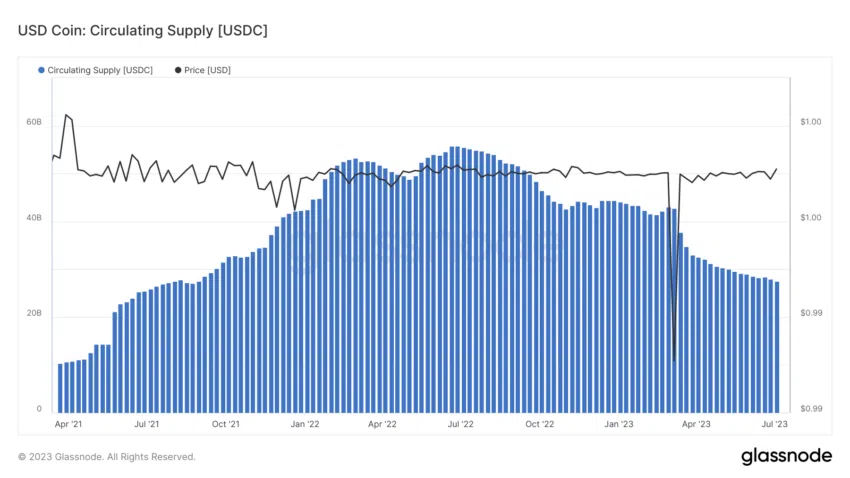 In March alone, the supply of USDC experienced a contraction of $10 billion, primarily due to investor concerns regarding Circle's exposure to a Silicon Valley bank, which triggered a temporary disruption in the stablecoin's peg to the US dollar. Although the disruption was short-lived and USDC's value temporarily dropped to $0.97, the subsequent loss in market share has endured.
While the supply of USDC has been diminishing, its primary competitor Tether has been making significant strides over the past year, consolidating its leading position. On-chain data indicates an impressive surge of approximately $17.8 billion in USDT circulation throughout the past year, with the majority of this growth occurring in 2023. Moreover, in the same week that USD Coin's supply decreased by $100 million, the total amount of USDT in circulation expanded by $22 million.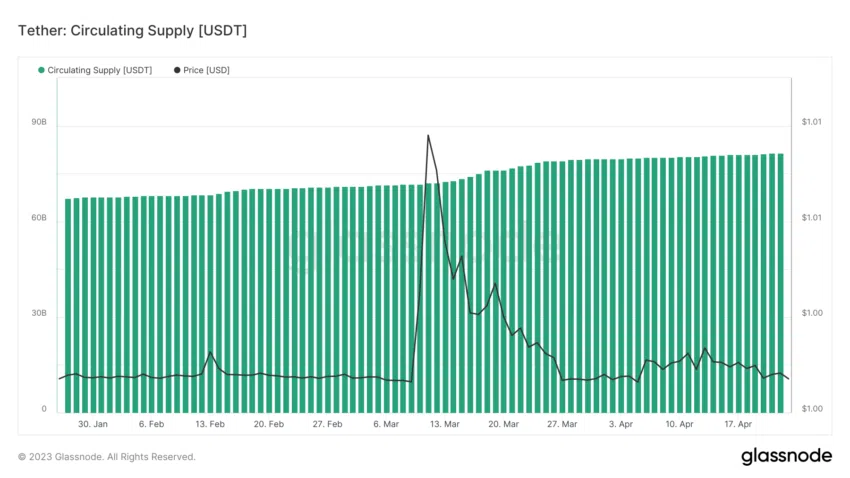 USDT's dominance has witnessed substantial growth in recent months, currently standing at over 7%. Over the course of the past year, Tether's supply as a percentage of the total market capitalization has consistently surpassed 8%. In contrast, USDC's market dominance dipped below 5% in January and has not recovered since, presently hovering around 2.3%.
DISCLAIMER: The Information on this website is provided as general market commentary and does not constitute investment advice. We encourage you to do your own research before investing.