Analysis
1inch Network Token Drops More Than 35% After Recent Hype
141 days ago - Around
3

mins
mins to read
Key Points:
The native token of the 1inch Network, 1INCH, experienced significant volatility, surging by over 80% before encountering a decline.
Trade volume for 1INCH reached over $630 million, the highest since October 2021, as more cryptocurrency users engaged with the 1inch Network.
Despite the recent surge, 1INCH saw a decline of over 5.5% in a day, with the price currently at $0.38, indicating potential selling pressures and resistance ahead.
The native token of the 1inch Network, 1INCH, experienced significant volatility in recent trading sessions, with its price soaring by over 80% before encountering a decline. The surge in trade volume accompanied the price movement, reaching a substantial amount of over $630 million, the highest seen since October 2021.
1INCH serves as the governance token for the decentralized exchange (DEX) aggregator, 1inch Network. The protocol, built on Ethereum, aims to enhance trading liquidity and reduce slippage by aggregating liquidity from multiple decentralized exchanges.
The positive price movement of 1INCH can be attributed to the growing number of cryptocurrency users engaging in transactions on the 1inch Network. Throughout the first half of the year, the active user base has consistently expanded, positively impacting the price of the native token.
Despite this recent surge, the price of 1INCH has experienced a decline of over 5.5% in a single day and over 35% from $0.6, currently standing at $0.38. Over the weekend, Bitcoin remained in a relatively narrow trading range between $30,050 and $30,500, contributing to a subdued market with minimal activity.
The month of July has seen consistent traction for the 1inch Network, with network activity, as measured by Daily Active Addresses (DAA), on the rise. DAA evaluates real-time changes in network activity by tallying the number of unique wallet addresses involved in transactions. A sustained increase in active addresses over an extended period typically exerts upward pressure on the token's price.
As the chart reveals, the price of 1INCH has steadily climbed over the past week, culminating in a remarkable surge of over 80%. The altcoin's primary declining trendline is marked, and the current focus for the bulls is to overcome this resistance level.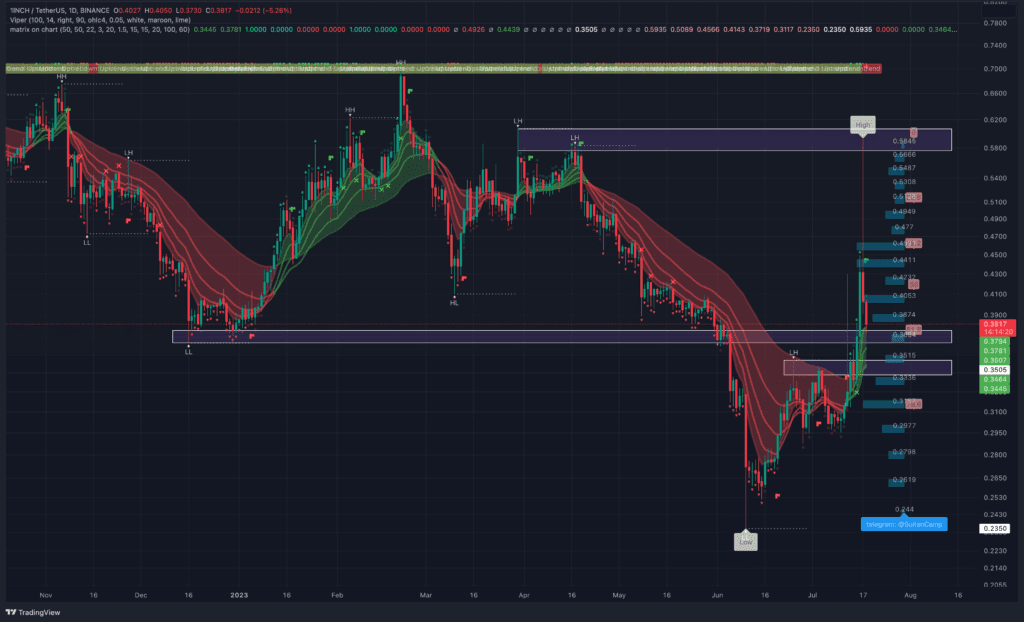 In terms of technical analysis, 1inch Network's price is currently trading near a resistance level, with support at around $0.35 and resistance at approximately $0.6. This positioning suggests the possibility of selling pressures ahead, as the token's price may be becoming overextended.
The volatility and trading activity surrounding 1INCH demonstrate the continued interest and growth of the 1inch Network. As the decentralized finance (DeFi) sector evolves, the performance of tokens like 1INCH will continue to be closely watched by investors and enthusiasts alike.
DISCLAIMER: The information on this website is provided as general market commentary and does not constitute investment advice. We encourage you to do your own research before investing.