Key Points:
Solana (SOL) experienced a robust 5% price surge in the past 24 hours, with a 7-day increase of 13.37%, indicating growing buyer interest and liquidity.
Despite a $3.4 billion crypto liquidation approval from the FTX exchange court case, Solana remains resilient, showing a strong recovery.
The coin's price currently stands at $20, supported by a solid Fib 78.6% level, but potential tests at $18 and $17.3 loom if selling pressure intensifies.
Solana (SOL), the cryptocurrency making waves, has seen a remarkable surge in its price, experiencing a growth of over 5% in the last 24 hours.
With a 24-hour trading volume of $255.3 million, Solana exhibits strong liquidity and a growing interest in trading this digital asset. In the short term, SOL's price has risen by 0.3%, indicating positive momentum. Zooming out to a 7-day perspective, the coin boasts a 13.37% increase, signifying an uptick in buyer interest over the past week.
Despite the recent approval of the $3.4 billion crypto liquidation by the court, linked to the FTX exchange, Solana's price remained resilient, showcasing a robust recovery.
The latest data shows Solana's price reaching $20, marking a notable gain of 5.03%. This uptick is seen by many as a favorable fluctuation.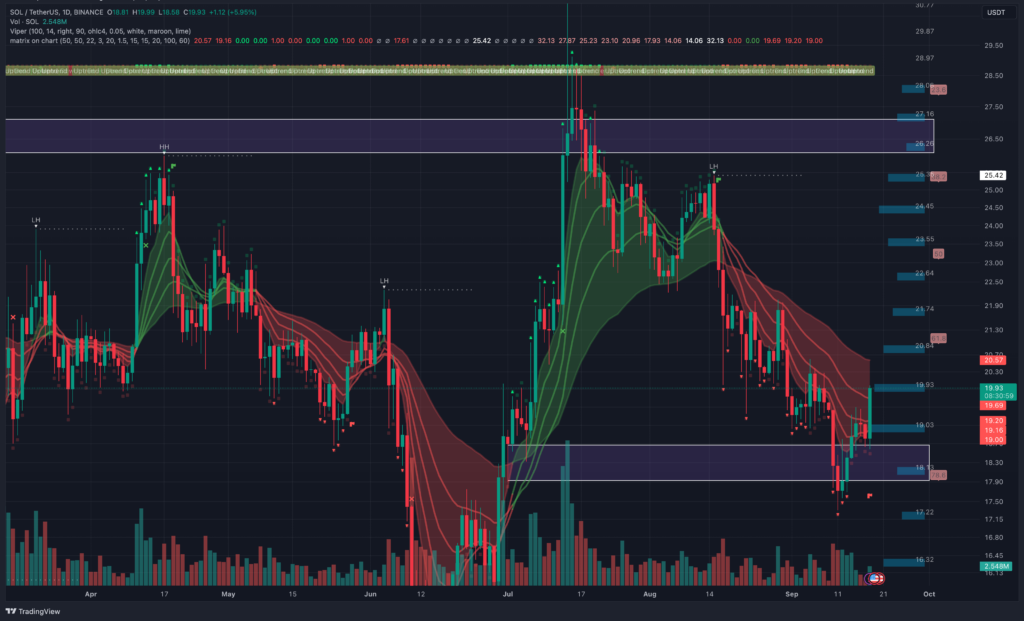 Moreover, SOL's recent support level, the Fib 78.6%, has proven sturdy, as the price has displayed four consecutive green candles from this point. Looking ahead, it is likely that the $20 level will maintain its support in the near term, providing a potential catalyst for further price increases.
In the event of increasing selling pressure, Solana's price might test the psychological barrier at $18, hovering around the midpoint of its current trading channel. In a more pessimistic scenario, SOL could dip further, potentially reaching the lower boundary of the channel at $17.3.
Solana's recent positive performance and resilience against market pressures are garnering attention, making it an asset to watch in the ever-evolving cryptocurrency landscape.
DISCLAIMER: The information on this website is provided as general market commentary and does not constitute investment advice. We encourage you to do your own research before investing.